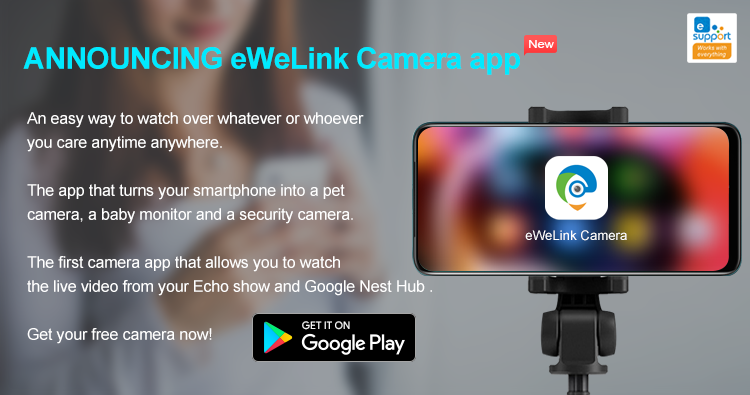 Watch eWeLink Camera app's video on Echo Show 
Step 1
Link your eWeLink account to Alexa has never been so easy.
We've implemented the App-to-App Account Linking tech which helps you link to Alexa in seconds within eWeLink app.
Now you can connect the two services without entering account credentials repeatedly.

eWeLink-to-Alexa


you can also try the other way around.
Alexa-to-eWeLink


Step 2
Once the device synchronize to Alexa,  use Voice Command: "Alexa, show me my camera." (Make sure the device name is correct, in this example, the device name is "My camera")
---
Watch eWeLink Camera app's video on Echo Show Google Nest Hub and Nest Hub Max
Step 1

eWeLink-to-Google
The linking between your eWeLink account and Google Home could also be done in seconds!
We've achieved the Google App Flip Linking which means you can link to Google Home directly without entering account credentials.  You can do it either from the eWeLink app or from the Google Home app.


Google-to-eWeLink
you can also try the other way around. 
Step 2
Once the device synchronize to Google Home app,  add the camera (your phone) to a house.
Then use Voice Command: "Hey Google, show House camera."