Control your devices from the Web
So far, how many eWeLink Support devices do you have? 10 pcs? 20 pcs?
If you find it difficult to scroll down the screen to check the status of all devices or find a specific device as you have paired many devices. Here comes the eWeLink Web to help you manage devices in a larger screen and faster way on PCs, Macs and tablets.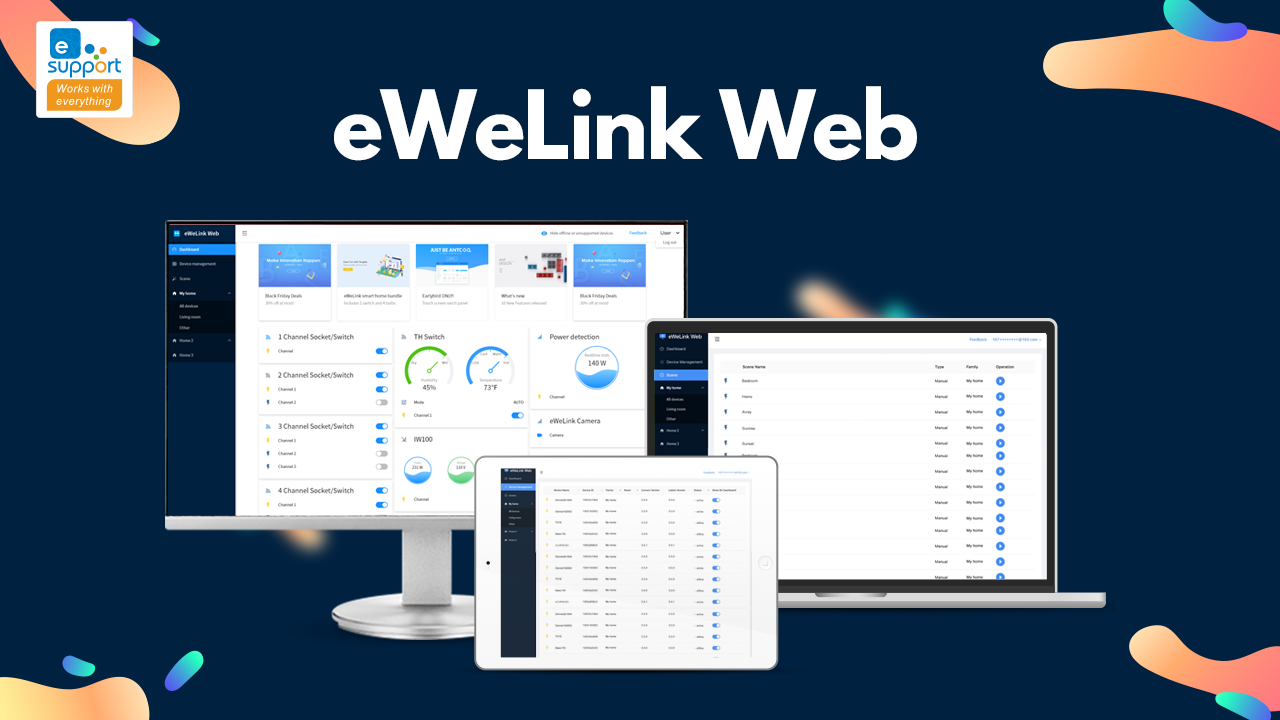 Dashboard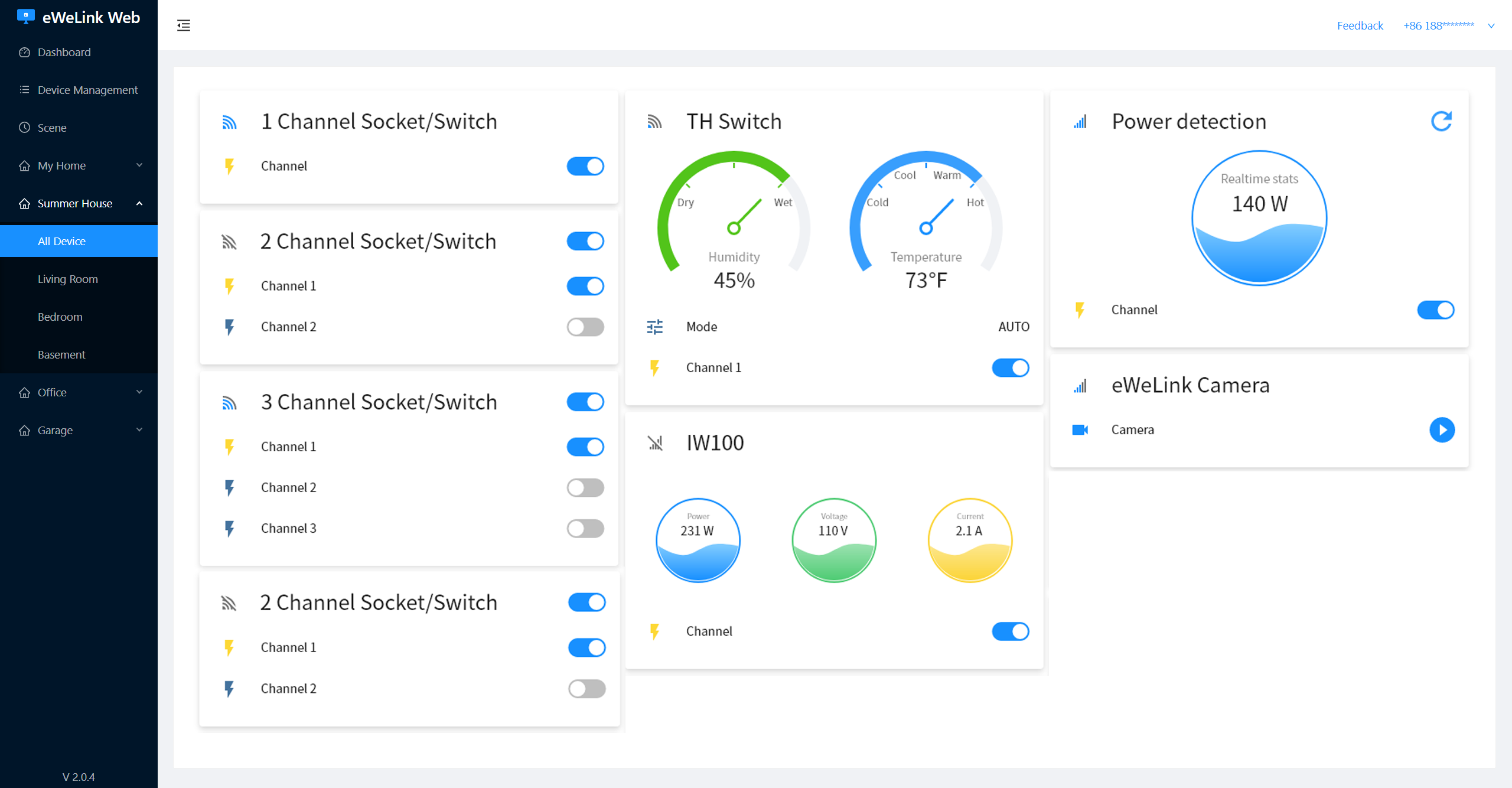 The Dashboard tab provides you an overview of the current statuses of selected devices and real-time, refreshing data from smart devices at a glance.
You can quickly access the current statuses of devices such as the on/off status of a device or separate gang of a multi-gang device, the real-time power, current, and voltage of a power measuring device,  and environmental data such as temperature and humidity. You can also control a 1-gang switch or plug or each separate gang of multi-gang devices directly on the dashboard.
On the top right of the dashboard, as before, you may choose to hide offline or unsupported devices. What's more, you may also submit feedback with the feedback button.
Device Management
The Device Lists allows you to check the detailed information of devices including device name, device ID, home, room, current firmware version, latest firmware version, online status, and decide whether the device to show on Dashboard or not.

       eWeLink Web makes it more seamless than ever to upgrade your devices, eliminating the need to check your array of devices one by one.
Device Management> Check for Upgrades>Choose device in bulk>Upgrade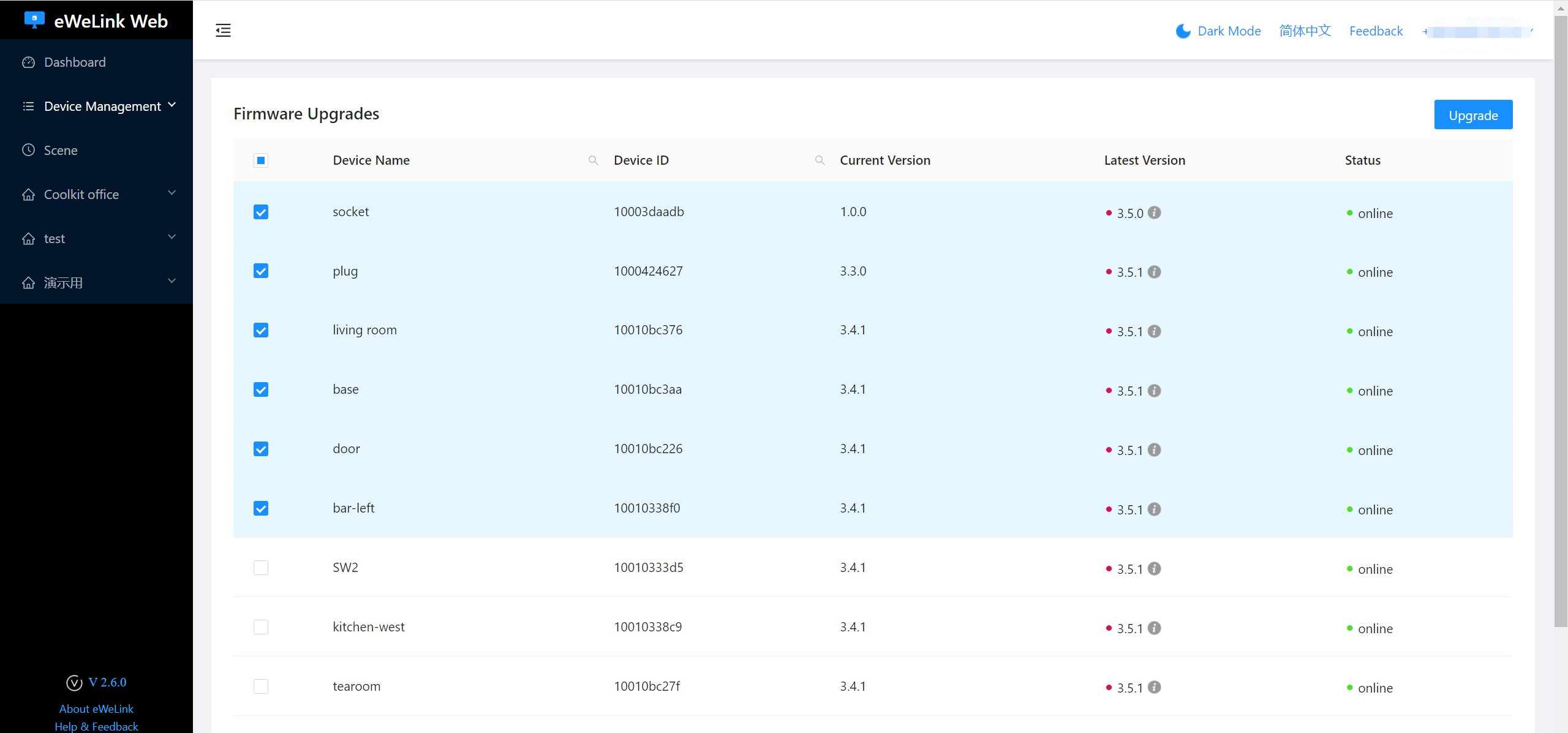 Creating and editing scenes

What's more, you can create and edit scenes on PCs, Macs, and tablets via eWeLink Web version, which means scenes settings including creating, editing, and operation can now be done on eWeLink Web. Also, for the convenience of PC users, we have released eWeLink Keyboard, which allows you to set keyboard shortcuts to execute your scenes with one click, as easy as using "Ctrl+C" to copy.
Download historical data of Power Metering devices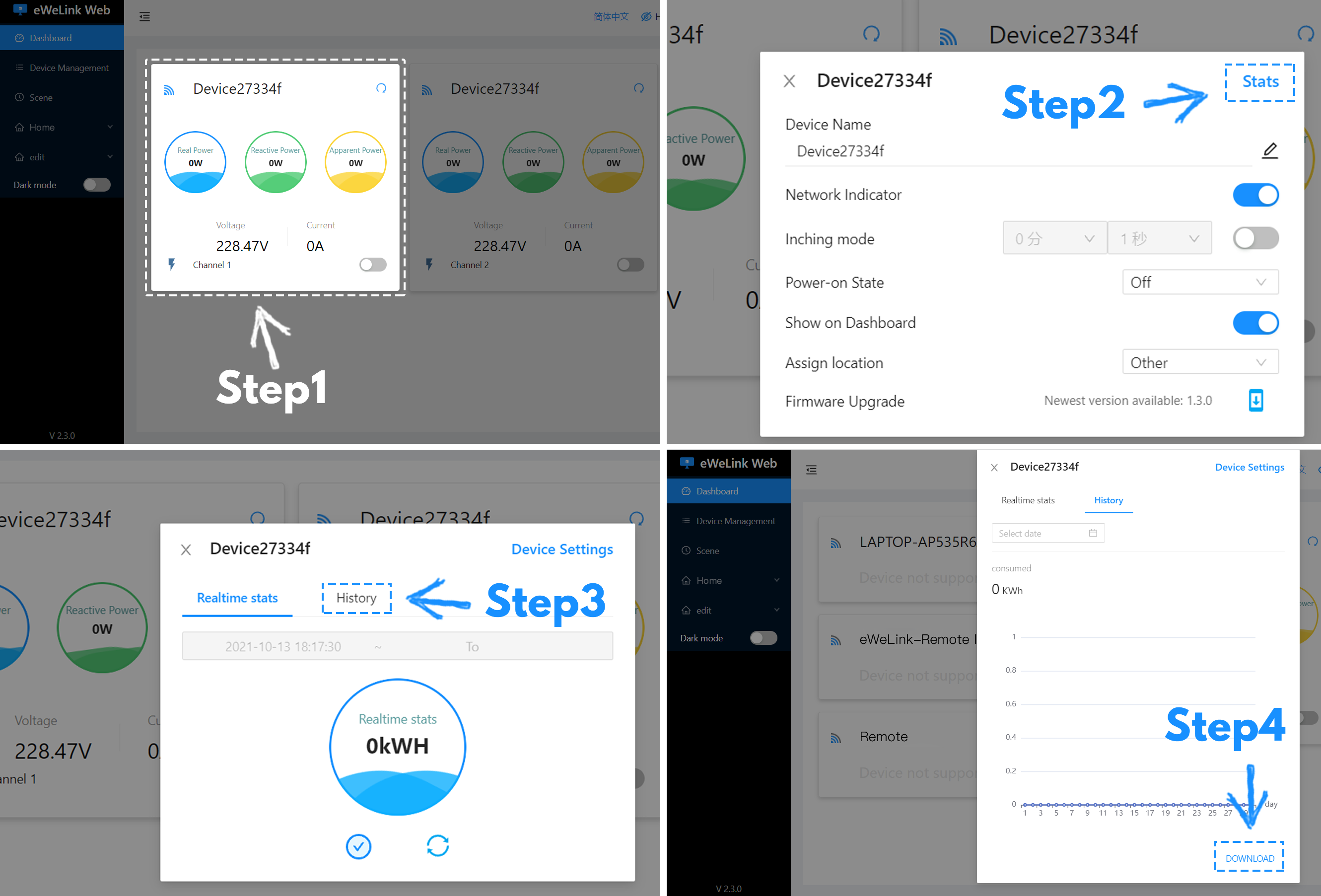 To help you have a good knowledge of the electrical consumption of your devices, eWeLink Web now enables users to download historical data of Power Metering devices. Thus you can use the electricity consumption history to estimate your current electricity consumption. Of course, you can also set a new timer based on the history of power consumption, combined with your local electricity price, to set a more energy-efficient timer for the device via eWeLink Web.
View Live Videos on Web
eWeLink Web allows you to watch connected cameras' videos in real-time. Plus, you can watch live video in a floating window so you can keep an eye on what you're watching and stay connected with what matters most while interacting with other devices.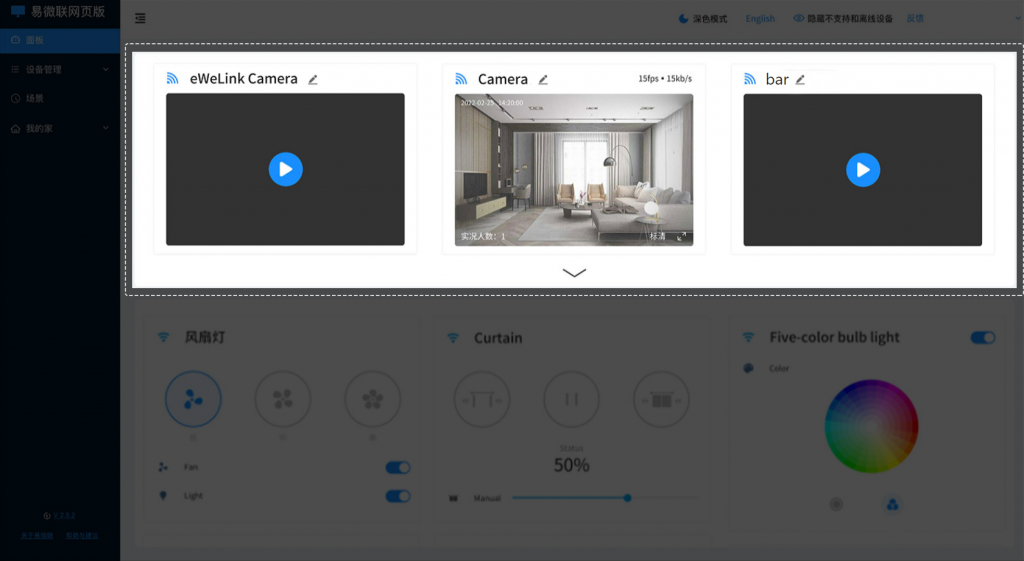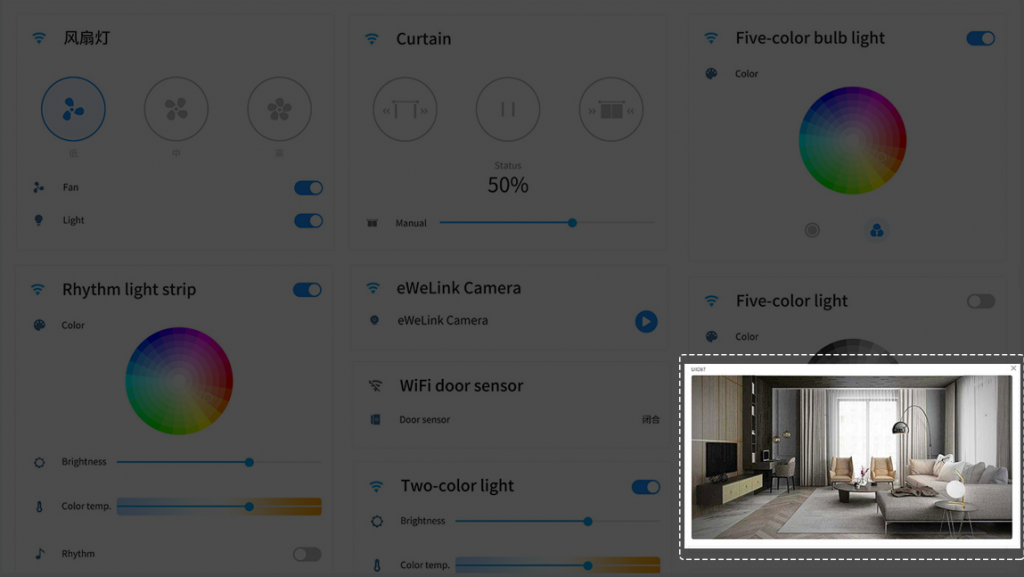 Webhook
eWeLink Webhook allows you to combine eWeLink power with other third platforms on your DIY smart life project. With Webhook, you can make eWeLink work with Youtube, work with Telegram, work with other apps that support Webhook to trigger the linked scenes, achieving your DIY tasks.
Many devices supported
As every single device type needs to be integrated into eWeLink Web separately, now eWeLink Web has supported many devices to meet the needs of most users. Switches with power measurement like SONOFF POW R3 and SONOFF DUALR3, some plugs and bulbs, sensor devices like TH16... You can see these devices displayed on the page of eWeLink Web. Last but not the least, you can now watch the live view from the eWeLink Camera app on the eWeLink Web.
Notification of Device Status Change and Scene Triggered
You can now receive device status change notifications on eWeLink Web.
Besides, you can turn on the Notification button when creating an auto scene, then you will get the detailed information via email when the scene is triggered.
Join Us
Now comes the eWeLink Web to help you manage devices&scene in a faster way on PCs, Macs, and tablets with any web browser. Upgrade to the Advanced plan to enjoy now.